Basic Leather Paring Class
PRIVATE CLASS: Basic Leather Paring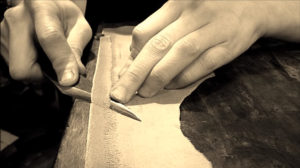 Leather paring is one of the most essential skills to master as a bookbinder and to advance your creativity. You will learn how to sharpen the steel and work with leather, then the basics of paring leather by the end of this class. Whole session would last approximately 5 hours. To enroll, you need to bring your own paring steel/knife. Here is one of the places to buy paring knives; www.talasonline.com
All other materials and tools are supplied.
NOTE: We do not work with French or Swiss style paring knife.
Maximum of 3 persons per session.
One person: $480
Two – three persons: $460 each.
ABOUT THE INSTRUCTOR:
Mie (Mia) H. Radcliffe: Bookbinder /Restorer in charge
She started her apprenticeship under the tutelage of  Joel Radcliffe in late 1997 and has become the official assistant bookbinder/restorer since 2003. She had worked behind Joel diligently and known as "our best kept secret". She has been in charge of most binding and restoration works (except for publishing) since 2006, and has become in charge of  all operations at ARS OBSCURA Bookbinding & Restoration Co. since June, 2020. To see some of her works, please visit her blog.